Contact Lenses in Mandan & Bismarck
Vision Source Mandan offers many options for contact lenses.
There are a number of reasons why you might prefer contact lenses to standard eyewear: a glasses-free look, hassle-free vision correction, wearing non-prescription sunwear and goggles, or the convenience of not having to worry about misplacing your glasses. If you have a high prescription or astigmatism, contact lenses may provide more enhanced vision correction than glasses. Today, you can even replace your bifocal glasses with bifocal contact lenses.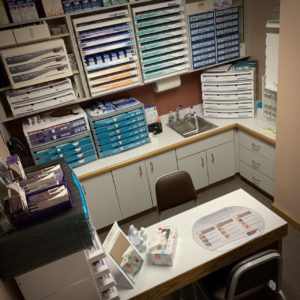 The eye doctors at Vision Source Mandan can recommend the best contact lenses for you based on a complete eye examination and a review of your visual needs both at work and play. Since most people can wear more than one type of lens, it's important to know what the choices are and the advantages and disadvantages to each. In the Bismarck, ND and Mandan, ND communities, we are lucky to have a wide range of seasons and activities at our fingertips; let the eye doctor find the right contact lenses for you!
Soft Lenses
These lenses are comfortable to wear and must be replaced monthly, weekly or daily depending on the type of lens your optometrist selects. Soft lenses are often recommended for sports because they fit closer to the eye and are more difficult to dislodge. They can provide correction for most prescriptions including astigmatism. Today, with the introduction of newer materials like silicone hydrogels, which allow more oxygen to the eye, patients find it easier than ever to wear soft lenses comfortably.
At Vision Source Mandan, your eye doctor has many contact lens manufactures and brands to choose from including Alcon, Baush & Lomb, CooperVision, and Acuvue.
Gas-Permeable (GP) Lenses
Sometimes called Rigid Gas Permeable (RGP) contacts, GP lenses offer sharp vision and correct most vision problems. They are made of a moderately flexible plastic and are more durable than soft contact lenses. They can be easier to handle and care for but require a longer adaptation period and consistent wear to maintain adaptation.
Multifocal Lenses
In both soft and GP designs, multifocal lenses offer patients both distance and near vision correction just like a pair of bifocal glasses. We handle a wide variety of brands of multifocal contact lenses. The Alcon Dailies Total One Multifocal contact lens has been a fan favorite!
Color Contact Lenses
Enhance your eye color or even change it completely. Colored contact lenses are fun and come in a variety of colors for both light and dark eyes. There are contact lenses available for daily wear as well as fun, funky costume contact lenses for special event wear! We really love the Alcon Air Optix Colors contacts for an option for every day wear. If you need that extra "oomph" to complete a custom look for an event like Halloween, the Orion Vision Theatrical contacts can do just that!
Medically Necessary Contact Lenses
There are some eye conditions, such a keratoconus, that require the use of medically necessary contact lenses in order for the patient to see clearly. In these cases, eyeglasses are unable to correct the vision. Usually, medically necessary contact lenses will be a specialty contact lens such as a hybrid contact lens (RGP center surrounded by soft lens skirt), a scleral lens (a very large RGP contact), or a traditional RGP lens.
Contact Lenses for Myopia Control
Vision Source Mandan offers Myopia (nearsightedness) Management services. One of the choices for treatment is the CooperVision MiSight contact lens which is FDA-approved to slow the progression of myopia. Visit our Myopia Management page for more information.
Regardless of the type of contact lenses you wear, an annual eye exam is recommended to ensure the continued good health of your eyes. Schedule an appointment for an assessment and advice at Vision Source Mandan in Mandan, and we will be in touch with you shortly.