Our Staff
Meet the experienced and friendly staff who make the Vision Source Mandan eye doctors the leading provider of vision care products and services in Mandan.
---
Linda
Bringing over 35 years of service to the clinic, Linda has extensive experience in the optical and contact lens departments. She most enjoys teaching patients how to take care of their contact lenses for the first time, and there isn't a contact that Linda hasn't seen or worked with! She also loves working alongside her fantastic co-workers. Linda likes to spend family time with her husband and son and also enjoys sports and walking.
---
Connie
Working in the optical department, Connie has over 30 years of experience in the ophthalmic field. She joined Vision Source Mandan in 1991 and she loves working with patients. They are like an extended family! Connie is married with two sons. She enjoys baking, making jewelry, and volunteering at her church. Connie was also the recipient of the Employee of the Year award for 2018, presented by the North Dakota Optometric Association.
---
Kim
Kim has worked with Vision Source Mandan since 2009 and she is our insurance expert. She manages our billing and insurance accounts, and she also helps out at the front desk. She is very knowledgable about what she does! Her favorite part of her job in the the interaction with patients. Kim is married with three boys, one step-son and step-daughter, two grand-dogs, and a grand baby!
---
Roxie
Roxie came to Vision Source Mandan in 2010 and has the ability to put a smile on everyone's face. She loves her job as an optometric technician because she gets to spend time with each and every patient that comes to the clinic. Roxie has been married for over 30 years with three children. She enjoys working with crafts and spending time with her four grandchildren.
---
Jamie
We added Jamie to our friendly staff in 2013 and she has been a wonderful asset. Jamie has extensive experience in the optometry world, bringing almost 20 years of optical experience to Vision Source Mandan. She thoroughly enjoys working with patients and assisting with their optical needs. The teamwork and positive attitudes of her co-workers makes working at Vision Source Mandan a pleasure! She has been married to her husband for 21 years and they have three wonderful children. Jamie and her family live south of Mandan near the beautiful hills at Huff. They enjoy country life and pursue their passion of gardening and preserving fresh veggies for their family.
---
Bre
In 2016, we had the pleasure of adding Bre to our family at Vision Source Mandan. Bre loves being an optician because she loves being able to help patients select their eyeglasses frames. She also frequently helps out at the front desk and she will gladly greet you with a smile on her face! Bre also very much enjoys teaching patients how to wear contacts for the first time. She has been married to her husband, Josh, for over 2 years and she loves coming to work because of the pleasant atmosphere. She has two beautiful "fur babies" – a dog named Mally and a cat named Bella. She loves being outside in the summer along with reading, watching movies and relaxing in her free time.
---
 Greta
We are pleased to have Greta join us in 2016! She has been a great asset to the Vision Source Mandan team as she brings over 10 years of optical experience with her, along with a positive and friendly attitude. She is happily married to her husband Ryan and they have 3 wonderful children. She loves spending time with her family and also enjoys knitting and working in the garden!
---
Julaine
You will notice a new smiling face at Vision Source Mandan in 2019! Julaine is currently in training to be an optician and will also be assisting the doctors with preliminary testing needs. She's excited to learn more about the optometry field because she loves helping people. She has been married to her husband for over a year and her favorite pastime is playing video games.
---
Elly
When you visit our clinic, you will be greeted by our wonderful receptionist Elly! Not only does she bring over 20 years experience in the insurance industry to Vision Source Mandan, but she also brings her warm and friendly personality. Elly loves interacting with people and loves being the first person to welcome you with a smile. She is happily married to her husband and they have two boys, who are now grown with children of their own. She enjoys gardening and loves spending time with her family and grandchildren.
---
Holly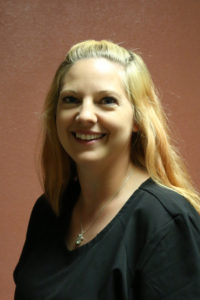 We were in need of more help in our busy optometry clinic and we hired Holly as a result! Holly has a bright smile and will be training to be an optician, as well as assisting the doctors with special testing. The best part Holly loves about her new job is the opportunity to interact with patients. She is married with 8 children between them and 2 dogs. She loves outdoor activities such as hiking and kayaking, and also enjoys yoga.
---