Are you making these contact lens mistakes?

If you are a contact lens wearer, do you make these common mistakes?
Even if you've worn contact lenses for years, it is sometimes easy to fall into habits that might not be the safest for your eyes. So here is a refresher of the do's and dont's for safe and healthy contact lens wear!
Wearing Habits
Do you sleep overnight in your contact lenses? Even if you have been given permission from your eye doctor, realize that sleeping in your contact lenses does increase your risk of contact lens related complications like an eye infection or a corneal ulcer.
Whether you sleep in your contact lenses or not, we always advise patients to follow the three rules. Stop contact lens wear immediately if (1) your eyes are red (2) your eyes are uncomfortable or (3) your vision is blurry. These can possibly be signs of a problem such as eye infection or ulcer and further contact lens wear will only make the problem worse. If the symptoms do not subside, please call our office and we can see you for an urgent visit the same day.
Changing Schedule
It is also important to change your disposable contacts when they are supposed to be changed. If you are wearing a monthly contact, that means you should discard your lenses after 30 days and open a new pair. If you try to "stretch them out" and wear them for longer intervals than intended, it can result in the contact lens surface gaining protein deposits. These deposits can create issues such as giant papillary conjunctivitis. I compare it to using a paper plate as your normal dishes. Sure, you can wash it and re-use it. But there will come a point when that paper plate has a layer of grime to it that you can't get off without it starting to disintegrate. (Yuck!) The same goes for your contact lenses. You will decrease your risk of complications if you change your contacts when directed by your eye doctor.
Cleaning your Contacts
With the exception of daily contact lenses (where you put in a clean pair of new contact lenses every day), it is very important to adhere to a correct and safe cleaning protocol for your contact lenses. It is best to use the solution recommended by your eye doctor for your specific contacts and your individual eyes. If you are using a multi-purpose solution, you should always gently rub your contact lenses in the palm of your hand with a small amount of solution when you remove them for the day. You should do the same before you insert them into your eyes in the morning. Always make sure to fill your contact lens case with clean solution each night; never re-use solution. (That's like saving the dirty dishwater in the sink to wash dirty dishes the next day! Eww!) If you are using a hydrogen peroxide system, make sure to always use the specially designed case and leave you contacts in the solution for the recommended amount of time. Do not try to take them out of the case early!
It is also important to make sure you properly wash your hands before handling your contact lenses and thoroughly rinse off any soap residue from your hands. You will also want to make sure that your hands are dry.  Water has the potential to be absorbed into the contact lens which can cause the lens to swell and actually change the prescription!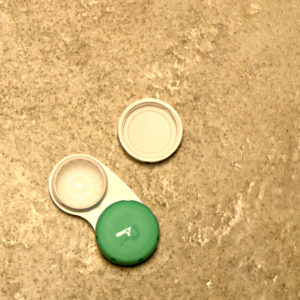 And don't forget to clean and/or replace your contact lens case! It can also become dirty over time. A good rule of thumb is to replace your contact lens case every 3 months, and make sure you keep it clean in-between then.
Showering and Swimming with Contacts
Both of these activities are a "no-no" for contact lens wearers. Tap water is not sterile and can contain micro-organisms that can invade your eye. Swimming pools contain chemicals such as chlorine that can be absorbed into your soft contact lens and create problems due to chemical exposure. And hot tubs are notorious for harboring acanthamoeba which can cause a serious vision-threatening eye infection in a short amount of time.
It is the safest option to remove your contact lenses before participating in any activities involving water!
Questions?
Don't be afraid to ask your eye doctor! If you think you might be having an ocular complication due to your contact lenses, call Vision Source Mandan at 701-663-0313.
Top image property of Vision Source Mandan and is not to be used without written permission.
The content on this blog is not intended to be a substitute for professional medical advice, diagnosis, or treatment. Always seek the advice of qualified health providers with questions you may have regarding medical conditions.